"Growing your fruits and vegetables is not only our family's passion, but a 4th generation way of life."
Todd Wagner is the quintessential New England orchard farmer.  His passion for growing apples, strawberries, tomatoes, raspberries, pumpkins and a whole host of other fresh fruits and vegetables is unmatched around New England.  But, that is only the growing.  This 4th generation farmer recently built a state of the art farm market (store), hosts a season long Harvest Festival, bakes pies & apple crisp, sells fresh breads and other goods and still finds time to take his family skiing on the weekends and manages a crew that seems as dedicated as he.  But, the part we love most about Todd and Applecrest Farm Orchard are the apples, and more specifically, the apple JUICE!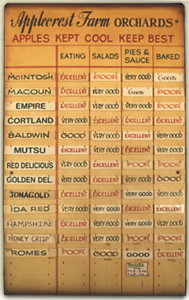 This year alone, Applecrest will press 2160 gallons of fresh apple juice for our Rhythm Cider products.  The first batch of which is already in the winery and will soon become 2 lots of Original Hard Cider and a lot of the Pride Honey Hard Cider.  Later in Cider Season, Todd will provide us with the juice for our Blood Orange Hard Cider, Blueberry Hard Cider, and Heirloom Hard Cider (and maybe some new ones?  shhh….).
We highly recommend that you visit Applecrest Farm Orchard right now, during Cider Season.  Go on the weekend and you'll find the Harvest Festival activities.  Pick your own apples, choose the perfect pumpkin, buy some carrot cake and a gallon of fresh-pressed sweet cider and say hello to Todd.  You'll be glad you did.
More About Applecrest